Dolce & Gabbana lose Elton
Good and Bad PR
Bad PR
Elton boycott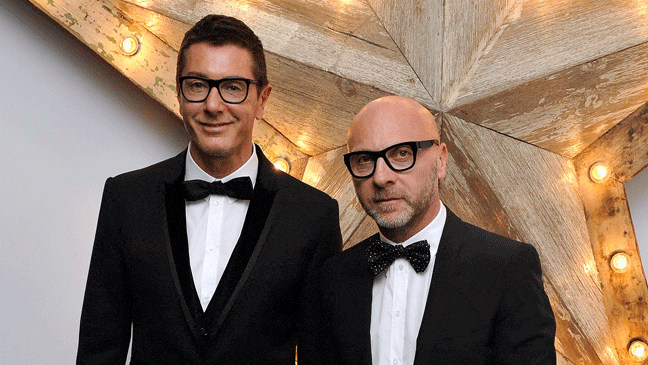 Fashion designers Domenico Dolce and Stefano Gabbana (off of Dolce & Gabbana fame) are in the middle of a public spat with Elton John over comments they made during an interview with Italy's Panorama magazine.
It's not because they slated Crocodile Rock or any of the superstar's other banging tunes though, it's because of comments the designer duo made about gay parenting. During their interview with the magazine, they aired opinions such as "We oppose gay adoptions. The only family is the traditional one" and "You are born to a mother and a father – or at least that's how it should be. I call children of chemistry, synthetic children. Rented uterus, semen chosen from a catalogue." This is all despite the fact that Dolce and Gabbana are openly gay themselves and Gabbana once allegedly asked a friend to be a surrogate mother for him.
Elton John, whose young sons Zachary and Elijah were conceived through IVF and is married to David Furnish, was outraged by the comments. He posted an image of the designers on Instagram with the comment "How dare you refer to my beautiful children as "synthetic". And shame on you for wagging your judgemental little fingers at IVF – a miracle that has allowed legions of loving people, both straight and gay, to fulfil their dream of having children. Your archaic thinking is out of step with the times, just like your fashions. I shall never wear Dolce and Gabbana ever again. #BoycottDolceGabbana".
Celebrities such as Victoria Beckham, Ricky Martin and Courtney Love were soon to show their shock at the pair's comments too. However, the designers hit back at the comments and so did Panorama magazine, saying that there were "double standards", with Courtney Love having taken heroin during her pregnancy and Elton John having sang with Eminem and Axel Rose, despite those stars having homophobic lyrics in their songs.
On Monday, Gabbana issued a statement on Instagram saying "We talked about our way of seeing reality, but it was never our intention to judge other people's choices. We do believe in freedom and love." In a separate stamen, Dolce said "I'm Sicilian and I grew up in a traditional family, made up of a mother, a father and children. I am very well aware that there are other types of families and they are as legitimate as the one I've known."
Backtracking somewhat? Either way, the comments haven't done them any favours. As you can probably imagine, most media outlets have been quick to pick up on this, so although there's nothing wrong with free speech and expressing opinions, there's nowhere for the designers to hide from their comments now.
During Milan fashion week in early March, the latest Dolce & Gabbana show was called "Mamma" and featured female models holding children; so, that's probably where all these comments about the "traditional" family stemmed from.
Shannon Haigh, 10 Yetis, @ShazzaYeti on Twitter
Seen any good or bad PR recently, you know what to do, @10Yetis on Twitter or andy@10yetis.co.uk on email.
If you enjoyed this article, you can subscribe for free to our weekly event and subscriber alerts.