Miliband pulls in fans, but people switch off Jamelia
Good and Bad PR
Good PR
Miliband's Milifans
As well as a glorious heat wave and endless sunshine, we are well and truly in the midst of major election fever here in Britain at the moment.

One of my favourite examples of good PR this week has got to be the rise of Ed Miliband amongst youngsters on social media, not to mention the genius hashtag #Milifandom.
The leader of the Labour party has hardly had the best deal in the past when it comes to popularity, but one 17 year old's (slightly odd) obsession with Miliband has had a hugely infectious impact on users of Twitter. Abby (no last name) gained over 12,000 followers on her Twitter account simply for declaring her love for Ed, whilst catapulting the #Milifandom hashtag to new levels in the process
— luc [PB] (@luceee_hall) April 21, 2015
Happy Warrior #milifandom #milibae pic.twitter.com/0XNN1mDjvN

— General Boles (@GeneralBoles) April 21, 2015
Speaking to Buzzfeed on her and her fellow "Milifans" unusual obsession, the type of which is exclusively reserved for boybands and teen actors, Abby said: "We just want to change opinions so people don't just see the media's usual distorted portrayal of him – and actually see him for who he is. Ed is just a great guy and how many other politicians have a fandom?"
Abby and her love for the leader of the opposition has also sparked a series of hilarious memes and GIF's that can only be described as a dream come true for the Labour party, which is especially keen to appeal to young Britons in the lead up to the all-important election next month.
What's more, as of this morning Ed himself now follows Abby and the Labour party's official Facebook page has even responded to the overwhelming amount of positivity by saying: "We didn't see this coming … if you're fired up about Ed, changing Britain, and making your voice heard, we'd love you to be on the team →labour.org.uk/volunteer." #Milifandom
There are plenty more examples of a photoshopped Ed Millibands's over at, would you believe it, The Mail online.
Pandora power
There is no denying that I am a sucker for a viral ad that tugs at the heartstrings. Anything that features babies, small animals or romantic proposals and I am well and truly a soppy mess.
It is therefore no surprise whatsoever that I am completely obsessed with the new video titled The Unique Collection from jewellery brand Pandora, and have watched it more times that I would care to admit already this week.
The premise of the video, originally uploaded on 13 April, is fairly simple. The brand have successfully promoted a new range of customised jewellery alongside the tagline "All women are unique" through a simple idea aimed at mothers across the world. An experiment features six young blindfolded children attempting to identify their mothers from a line-up of different women using just their youthful instincts and maternal bonds.
The beautiful moment when each child successfully picks their own Mum using just their sense of touch and smell is seriously touching, and with over 7.5 million views on YouTube and counting, the video certainly helps promote Pandora to its core audience of young women and mothers.
Bad PR
Jamelia in a jam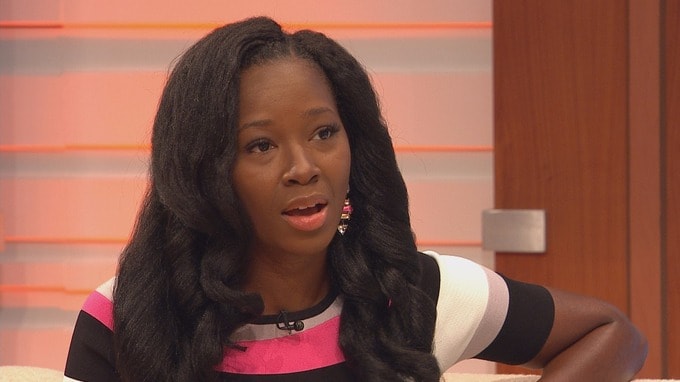 Former pop star and regular panellist on ITV's daytime show Loose Women has landed herself in some hot water this week after making the suggestion that plus-sized clothes should be banned from high street stores in the UK.
Speaking on Tuesday's show during a discussion about whether or not brands should promote plus-sized clothing towards children and teenagers, the 34 year old said: "I think everyone should have access to lovely clothes, BUT I do not think it's right to facilitate people living an unhealthy lifestyle.
"I don't believe stores should stock clothes below or above a certain weight. They should be made to feel uncomfortable when they go in and can't find a size."
Her comments understandably caused outrage amongst viewers watching the show, leading many to take to Twitter and express their anger that someone in the public eye could be so insensitive to people who may be suffering from debilitating health problems or issues.
During an appearance on Wednesday morning's Good Morning Britain, Jamelia appeared to stand by her controversial comments during an interview on promoting healthy body image through untouched selfies. She spoke to presenters Kate Garaway and Susanna Reid and said:
"Watching it back I can see how number one, papers are able to regurgitate the story which makes it much more sensational. She added: "I didn't make it clear on the show that I was talking about extremes – above a size 20 and below a size 6."
"Knowing I offended people really upset me and knowing I made people question themselves and their choices. All I can do is apologise for that," she continued. "But I do stand by what I said – I am a real women with real opinions. I'm not here to play some villain. It's not that, I get paid to voice my opinion. Occasionally you offend people."
Whilst I agree that everybody is entitled to their own opinion, I do think that by actively encouraging that those who are smaller or bigger than the average woman should be ostracised and made to shop in separate places to their friends and peers, Jamelia has proved that she has no idea how low self-esteem and depression (which this idea would undoubtedly lead to) can lead to further cycles of damaging behaviour such as bingeing or starving.
Written by Lauren Wilden, 10 Yetis Public Relations. If you've seen any good or bad PR recently, you know what to do, @10Yetis on Twitter or andy@10yetis.co.uk on email.
If you enjoyed this article, you can subscribe for free to our weekly event and subscriber alerts.
Upcoming events: