Communicator of the Week: Hillary Clinton
PR News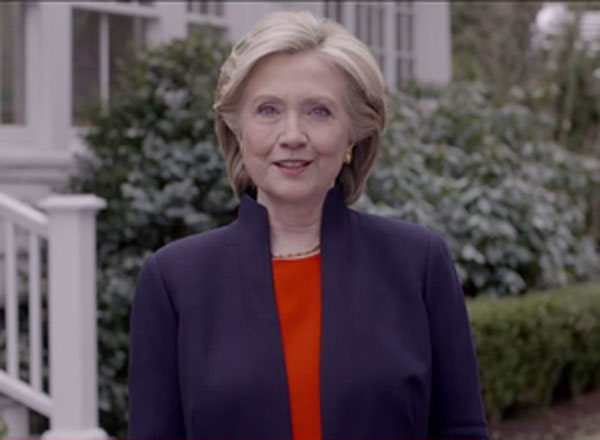 If you have been a Washington insider for over 20 years how do you begin to run for president of the United States at a time when Washington - and Washington insiders - is more hated than ever? That is the question Hillary Clinton and her strategists must have asked themselves over the last few months as they prepared the ground for her second tilt at the most powerful job in the world.
The answer became apparent over the weekend with the pre-briefing then social media release of a campaign video announcing Clinton's bid for the White House. This news ran across traditional and social media and led news bulletins all over the world. As an announcement goes it was a pretty slick and effective operation.
What was even more impressive was the actual video message. It achieved all it needed to do without making any promises or indeed using any meaningful content at all. It was resolutely aspiraional and forward looking - even the new Hillary logo is a big red arrow pointing to the future. The theme, "Getting Started" is all about preparing for the future. The language used is just as revealing with Clinton talking of wanting to be "America's champion" and asking people to "join me on this journey". There is a nod towards "hope" but she is not being in anyway presumptuous talking of "hitting the road to earn your vote". The tone was upbeat and modern - every kind of family unit is included as are every ethnic group- but not overbearingly sickly.
Critics have lined up to whack Clinton even before her campaign has begun. Most focussing on her record claiming a range of foreign policy failures - the rise of Russia, Iran and ISIS - during the Obama presidency during which Hillary Clinton was his Secretary of State. For me this rebuttal will have felt jarring to most voters who will have seen them or their families reflected back to them by watching the video. It was relevant, bright, simple and smart politics to kick off her campaign in this way. For this I make Hillary Clinton my Communicator of the Week.
If you enjoyed this article, you can subscribe for free to our weekly event and subscriber alerts.
Upcoming events: