Krispy Kreme's #BigOccasion campaign is the PR winner
Good and Bad PR
Good PR
Doughnut Delights
I feel that, when working in PR, you are required to have certain characteristics in order to succeed; one of those traits is being able to eat a colossal number of doughnuts. No? Just me?
So, when I saw what Krispy Kreme was getting up to this week, it made me happy (and hungry). To mark the launch of its "Occasions" service for special events – you know, doughnut buffets and the like – Krispy Kreme supersized its iconic Double Dozen box to create the Double Hundred Dozen.
The trademark polka-dot box this time measured three and a half metres long by just under a metre tall and was filled with 2,400 Original Glazed Doughnuts (a whopping 380,000+ calories).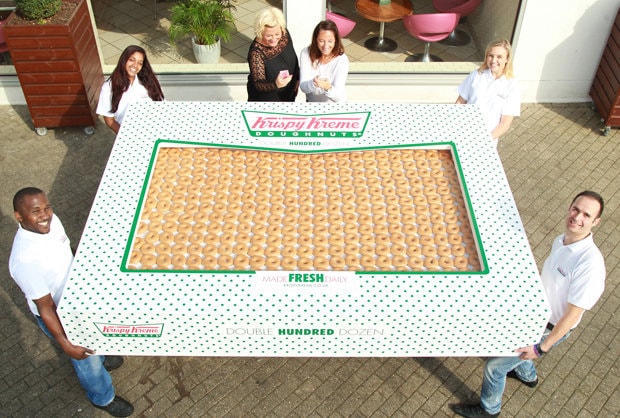 Images of the giant box of doughnuts made it onto the Huffington Post, Daily Star, Daily Telegraph and Metro (amongst others by the time you're reading this, I'm sure), as well as into the key trade press.
The best part? The Double Hundred Dozen box is being given away to a workplace to celebrate. Krispy Kreme is asking fans to tweet the company with their #BigOccasion to be in with a chance of winning. I'm pretty sure this stunt has done the trick, because now that I know about Krispy Kreme's Occasions service, I'm seriously considering ordering a gigantic doughnut tower for my wedding cake.
I've also spotted a separate story relating to Krispy Kreme's limited edition marshmallow Ghostbuster-themed doughnuts, which have been created in celebration of the release of the 30th anniversary edition of Ghostbusters on Blu-ray. So, that's a double good PR whammy! We'll just breeze over the fact there is a smidge of negative media coverage about Krispy Kreme's 600+ calorie milkshakes...
Bad PR
Badly Behaved Barbie
Toy manufacturer Mattel has had to launch an investigation, after a mother who bought a Barbie for her daughter overheard it apparently swearing.
25-year-old Talina Evans bought the doll, which is based on Barbie's web reality series "Barbie Life in the Dreamhouse", as a treat for her seven-year-old little girl Demileigh.
The doll is programmed to say 15 phrases, such as "I love a makeover" and "There is no substitute for glitter" (there really isn't). However, Talina claimed to overhear the doll exclaiming '"What the f**k".
She tried to return it to the Home Bargains where she bought it, but they wouldn't take it back because Talina had lost the receipt.
Apparently, the doll was programmed to say "off the hook" (a weird phrase for a Barbie to be blurting out, if you ask me) but an unfortunate sound error meant it sounded like the extended disco version of "WTF?!"
Maybe Barbie is just getting a bit fed up with her squeaky-clean image. Maybe she's had some kind of meltdown. Or, maybe, someone in the toy development team or factory was just having a laugh and is now cowering in a corner fearing for their job.
Shannon Haigh, 10 Yetis, @ShazzaYeti on Twitter
Seen any good or bad PR recently, you know what to do, @10Yetis on Twitter or andy@10yetis.co.uk on email.
If you enjoyed this article, you can subscribe for free to our weekly event and subscriber alerts.
Upcoming events: